LEARNING AND LANGUAGE ACQUISITION THEORIES AND LANGUAGE TEACHING METHODOLOGIES
Synopsis
Since the end of the 18th century, various teaching methods have been gradually introduced and popularized in China. When one teaching method is popular, other teaching methods are extremely rejected. Thus, when Chinese learn a foreign language, teachers will feel a headache. The importance of English learning can be seen from the position of various examination subjects. Although English learning is highly valued, people have always felt a headache for learning English. As a first-line college English teacher, the author has been engaged in college English teaching for decades, during which she has witnessed various perplexities of students in the process of English learning. In the face of students' questions, the author reflects on how to effectively teach English courses. For a long time, people think that the biggest black box of the human body is the brain. It is like a wonderful tool, full of mystery. Traditional behaviorists study people's explicit behavior and think that the learning process has nothing to do with the internal psychological process. As long as the external stimulus is controlled, the learning effect can be controlled and predicted. There has been no consensus on how the process of reading comprehension occurs, how to retain the meaning after understanding, and how to promote learners' reading comprehension. With the development of cognitive science, people are gradually approaching that seemingly mysterious area, and the process of brain thinking is more and more measurable. If we want to know how to teach English courses, we need to understand what factors will affect the process of reading comprehension.
Traditional teaching methods emphasize that meaning resides in the text. Cognitivism believes that it is inevitable for readers to make efforts to extract the meaning from the print whose deep thoughts or feelings will be paid attention. The meaningful learning theory emphasizes the meaningfulness of learning and the importance of learners' existing cognitive structure in learning new knowledge. With the rise of cognitive science and the development of socio-cultural theory, there has been a tendency of structuralism to constructivism in academic circles in recent years. Constructivism believes that knowledge is constructed by learners themselves, not transmitted by others.
But in the process of learning, do learners use the original knowledge structure? How do they use it? How do they actively integrate into the reading process? Schema theory can better explain how learners' original knowledge structure is activated and actively applied to learners' meaning acquisition and memory.
After analyzing and sorting out various learning and language acquisition theories, we can feel that one theory seems to be better than the other, or a theory has its own advantages. As foreign language teachers, we should make use of the best of all other approaches and methods to SLA.
This book provides teaching inspiration or enlightenment、criticism or comments of both scholars and the author on learning and language acquisition theories、various language teaching methodologies、a wide range of applications of learning and language acquisition theories in English teaching、reading, writing and vocabulary strategies, skills, methods and normal information knowledge from the perspective of theory and practice.
There are many findings in the research. For example, in the study of paragraph comprehension under structuralism in chapter 8, some findings are related this topic: We can use the conjunction relationships between the sentences in a paragraph to determine the structure of the paragraph, whether they are signaled or unsignaled, including finding the main idea; the contextual clues can be adverbs, pronouns, nouns, verbs, and preposition groups besides conjunctions; items in one type of relationships are of equal weight and one sentence in another type of relationships is given more importance than the others; there is a relationship between the type of conjunction relationship involved and the location of the topic sentence; the role of the main idea or topic sentence is not in whether it always provides important information, but in its organizational function.
This book provides important enlightenment for foreign language teaching. While paying attention to the vocabulary and structure of teaching materials, foreign language teaching should pay attention to the generation of meaning, that is, to incorporate the learned knowledge into the original knowledge structure. In teaching, learners' hard work, cognitive structure, existing knowledge structure, language level, thoughts and feelings, and the state of actively integrating into the learning process, etc. should be taken into account. In addition to practice, foreign language teaching should be based on meaningful learning. Reading teaching should focus on the interaction between learners and text instead of text, that is, the active construction of knowledge; reading teaching should shift from focusing on reading results to focusing on the process of meaning generation. Due to the author's limited knowledge, there might be some omissions and errors in this book. Pease don't hesitate to correct them.
________________________________________________
DOI:10.5539/9780978430153
URL: https://doi.org/10.5539/9780978430153 
ISBN: 978-0-9784301-4-5 (print)
ISBN: 978-0-9784301-5-3 (ebook)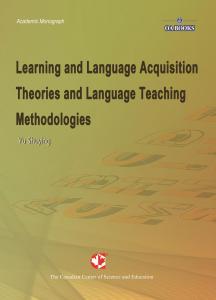 Copyright (c) 2023 YU SHUYING
This work is licensed under a Creative Commons Attribution 4.0 International License.
Details about this monograph
ISBN-13 (15)
978-0-9784301-5-3
Date of first publication (11)
2023-01-28
Physical Dimensions
210mmx285mm